Print
Taco Stuffed Sweet Potatoes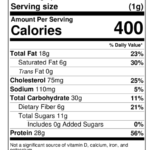 These Taco Stuffed Sweet Potatoes were spot on! They were easy to make and so delicious, everyone in the family will be sure to enjoy them! The sweet potatoes are so simple, making them the perfect weeknight dinner and can even be prepped ahead of time by baking the sweet potatoes and taco meat then just reheating and assembling come dinner time! This recipe is also dairy-free and gluten-free! Another amazing perk of this recipe is the nutrients it packs. Sweet potatoes are high in B vitamins, fibre, antioxidants, beta carotene, vitamin A and other minerals helping to support immune function, improve eyesight and even promote gut health. The combination of 28g of protein and a complex carb makes these a filling and satisfying meal! I will note, we subbed the tomato salsa for homemade guacamole   (pure preference),  but it was amazing and added a healthy source of fats! 5 stars all around.
Scale
Ingredients
2

medium sweet potatoes

1

lb ground beef

1 cup

onions, diced

3

garlic cloves, minced

½

tomato sauce

2 tsp

cumin powder

1 tsp

coriander powder

2 tsp

onion powder

1 tsp

paprika

1.5 tsp

kosher salt

Lack pepper to taste

2 tbsp

olive oil

½ cup

water or beef broth

2

medium tomatoes, diced

¼ cup

red onion, diced

1

green bell pepper, diced

1 tsp

jalapeno, chopped

Fresh cilantro, chopped

1 tbsp

fresh lime juice

1

small garlic cloves, minced 

Salt and pepper to taste 
Instructions
Preheat the oven to 400F.

Line a baking sheet with aluminum foil.

Wash sweet potatoes and scrub thoroughly, dry completely.

Using a fork, poke sweet potatoes all over and place on a baking sheet. Bake for 50-60 minutes or until sweet potatoes are tender and easily pierced through to the center with a fork.

While the sweet potatoes are baking in the oven, prepare the taco ground beef. In a skillet, add olive oil over medium high heat.

Add the ground beef and cook until no longer pink. Reduce the heat to medium and add garlic and onion. Saute until onions are translucent. 

Add all the spices and mix everything well to combine.

Pour over the tomato sauce and water. Reduce the heat to low, cover and cook for 20-25 minutes. Don't forget to stir occasionally. 

Meanwhile, make the salsa by combining all the ingredients in a medium-sized bowl. Set aside

To assemble, cut the warm sweet potatoes down the center lengthwise. Fill with the taco meat and top with salsa. Serve immediately.