Print
Naan Flatbread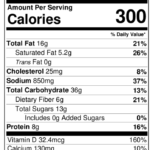 Flatbreads from your favorite restaurant may be a crowd-pleasing appetizer, but they can often be calorie-dense and fiber-poor. Making them at home is frankly quite easy, as they require little time and preparation and the ingredients are easy to find! Naan bread is surprisingly versatile and not exclusive to Indian cuisine. What's great about this recipe is that you don't have to hand-knead the dough because the whole-wheat naan is readily available at most supermarkets in the bakery section. We LOVED this recipe! You can also make mini-pizzas with the naan bread instead of ordering out (to cut on cost and sodium/fat intake).
Scale
Ingredients
1

whole wheat naan bread

2 tbsp

mayo

2 tbsp

sour cream

2 tbsp

garlic seasoning

2

–

3

tbsp crumbled feta

1

crimini mushroom, sliced

3

–

4

cherry tomatoes, sliced

¼

of a small red onion, sliced

2 tbsp

dried or fresh basil, chopped

Balsamic glaze to drizzle (optional but highly recommended)
Instructions
Set oven to 350 F

Prepare base; mix the sour cream and the mayo, and spread it on the naan bread. Sprinkle with garlic seasoning on top.

Slice the onion, mushroom, cherry tomatoes, and basil. Arrange on top and add crumbled feta.

Bake in the oven for 15 minutes, or until the cheese has softened.

Drizzle some balsamic glaze on top and serve. Enjoy!